About 10 years ago, the Utah Congressional Delegation pursed removal of 30 acres of public land that was proposed for wilderness designation by then Rep. Jim Matheson and a local coalition of conservation, recreation and watershed managers. This project known, as SkiLink, ignited our community.
Rep. John Curtis talks about how he is different than past members of the US House of Representatives. It appears he is. Rather than acting to pursue a common sense accord, he is siding with Rep. Rob Bishop and Sen. Mike Lee (who have run legislation to open Wilderness to mechanized use), stating that consensus legislation places restrictions on so-called "transportation solutions", code for ski-interconnect type projects like One Wasatch and SkiLink. And rather than writing legislation to remove 30 acres of proposed Wilderness, he's drafting legislation to remove 277 acres of already designated Wilderness. This is Wilderness Save Our Canyons worked to designate in the 1984 - the Mount Olympus WIlderness.
Our frustrations with this are many. Yes, they are suggesting an addition of wilderness, but the proposed additions have never been part of a Wilderness proposal Save Our Canyons, nor our conservation partners have prioritized. The proposed land to be added by this legislation was concocted by trails groups as a way to make this stand alone exchange pencil out. A priority trail going through existing wilderness, should beget priority wilderness of equal significance (not just acreage). Trail advocates and the International Mountain Biking Association have reneged on the agreements that led to consensus as part of the accord. This agreement hinged on adding approximately 6,000 acres of Wilderness, from Grandeur Peak to Mt. Aire and 2,000 acres on the western flanks of Lone Peak. It also incorporated the principle that no wilderness unit should receive a net reduction of acres, because we fervently believe that we need to be building upon a proud conservation legacy, respecting the land and those who set it aside, not erroneously removing it on a whim. Finally, the agreement for removing this wilderness was that it needed to be done a part of the full package that implements the vision of the accord.
The other issues are more technical in nature. First, has to do with what the Bonneville Shoreline Trail (BST) is visioned to be, which is a multiple use non-motorized trail for users of all abilities. The language of the Memorandum Of Understanding (MOU) between the Bonneville Shoreline Trail Committee and the USFS states that, "all segments may not be appropriate for all of these uses." Such is the case with this section of trail, which has grades in excess of 30% and in some sections over 50%! Anyone that has hiked along the foot of Mt. Olympus knows the steepness is amazing. The Wasatch, for instance, has the same vertical relief as the Grand Teton. Shared use on a narrow single-track with grades 30% is not feasible. IMBA's own trail design standard says that grades shouldn't exceed 15%.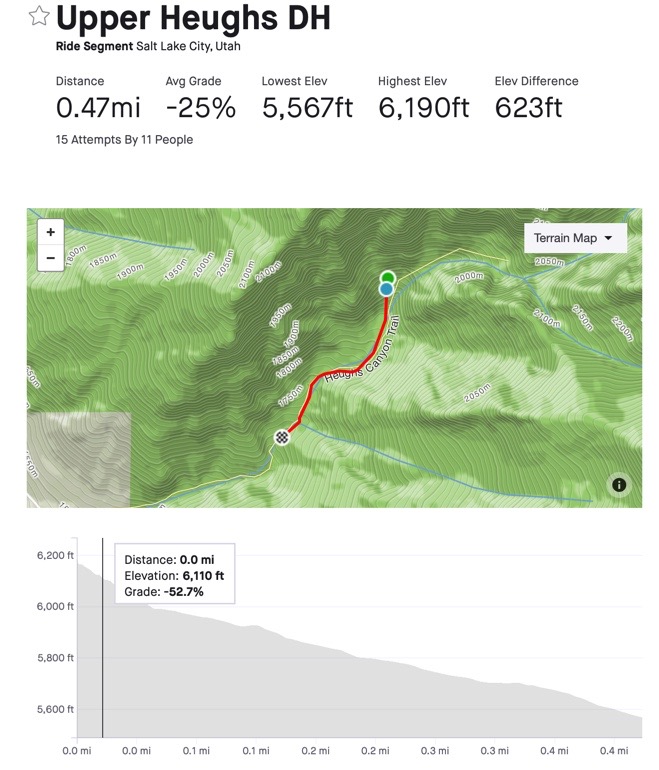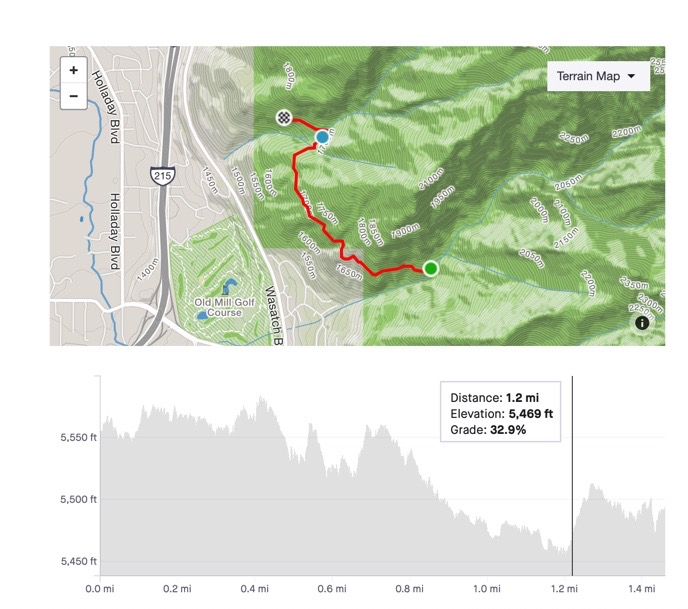 Second, in 2006, the US Forest Service did an Environmental Assessment (EA), on the BST. It analyzed three alignments. A high alignment, a middle alignment and a lower alignment. The alignment being pursued by Rep. Curtis's bill is the high alignment (Alternative 3). The USFS's own Environmental Assessment (EA) of the BST states the following:
"Alternative 3, located higher on the mountainside, would deviate substantially from the Bonneville Shoreline bench and due to the amount of elevation gain, would not be accessible or utilized by as wide a range of users, including those seeking less aggressive types of recreation opportunities. It would also disturb more area than my decision, creating the potential for more environmental impacts."
A focus of the impacts in the EA are habitat fragmentation and loss of big game winter range. These are the values that the Wilderness we have today, helps to protect. They are flippantly and thoughtlessly being disregarded under the rues of an arbitrary acre for acre calculation. Further, if lands adjacent to ski areas, cannot be protected without their support, according to members of Utah's Congressional Delegation, why can existing wilderness be pursued without the support of the conservation and recreation community?
In the absence of a comprehensive plan for the Wasatch, we are doomed to fall victim to the battles of the past, planning via legislative fiat - a tactic we've vowed not to pursue. We draw a stark line between serving ourselves and serving the Wasatch, this place, the broader community, our watersheds, and the wildlife we share this space with.
Today, we are asking you to stand with us and our coalition and advocate for comprehensive solutions in the Wasatch that benefit wildlife, decrease canyon congestion, find resolution to ski area expansion and ski interconnect, and forward an effort of consensus that allows us all to enjoy the beauty and wildness of the Wasatch Range.
As such, Save Our Canyons has joined with Friends of Alta, the League of Women Voters - Salt Lake, Sierra Club - Utah Chapter, Wasatch Backcountry Alliance and the Wasatch Mountain Club in asking our Utah Delegation and local elected officials to oppose Rep. Curtis's divisive legislation.
Bonneville Shoreline Trail and Mt. Olympus Wilderness Coalition Letter

We'd love to see a multiple use trail and we support the BST. It should not come at the expense of collaboration and certainly not at the expense of conservation, the loss of Wilderness. Sadly, we aren't shocked that Utah's delegation continues its assault on Wilderness, and partnering with those in the delegation who continually work to erode Wilderness is disappointing. At one point, we too, had hopes that Rep. Curtis would be different. Taking a page from the SkiLink playbook and advocating for the removal of wilderness shows that he is cut from the same anti-conservation, anti-Wilderness cloth as others in our delegation.
Shelving this proposal and becoming a leader in helping to arrive at consensus for the full package would be a much better use of his time in congress, rather than sowing the seeds of discord. This community has worked hard to unite behind a compromise vision for the Wasatch.