Utah is one of the fastest growing states in the country, and with that comes a great demand for aggregate materials used in housing and infrastructure (e.g. sand, gravel, and stone). The Wasatch Mountains are facing growing pressures from developers for mining operations, including the controversial open-pit mine proposed for Parleys Canyon. A new bill would make it far too easy for mining operations to expand, while allowing them to dodge local regulation.
Mines could easily expand.
The bill would make it easier for mine operators to establish a "vested mining right," which is an unconditional right to use the land for mining purposes. This vested right could be transferred to land with any history of mining activity, as well as adjacent properties (even those yet to be mined) that are owned or acquired by mine operators. This deviates from the law's original intent to protect existing mines, as opposed to promoting the creation of new mines without any regulation.
Local governments would have no say in the matter.
Mining operations would be exempt from local land use authority, regardless of the size of the mine.
The bill also imposes significant hurdles to challenging the validity of a vested mining use by imposing a time limit and redirecting where disputes are resolved. Any parties in opposition to a vested mining use would have one year to challenge it, after which it would be "conclusively established for all purposes." Disputes would also be resolved by the Board of the Department of Oil, Gas and Mining (DOGM), instead of by district courts where property right disputes are routinely litigated.
How much land could be impacted?
This is a map of Utah's active (green) and inactive (red) mines. These sites, including adjacent properties owned or acquired by mine operators, could be open to new mining. There are 35,000+ open mining claims throughout Utah, covering about 800,000 acres of land. This includes Tree Farm LLC's proposed 634-acre gravel pit in Parleys Canyon.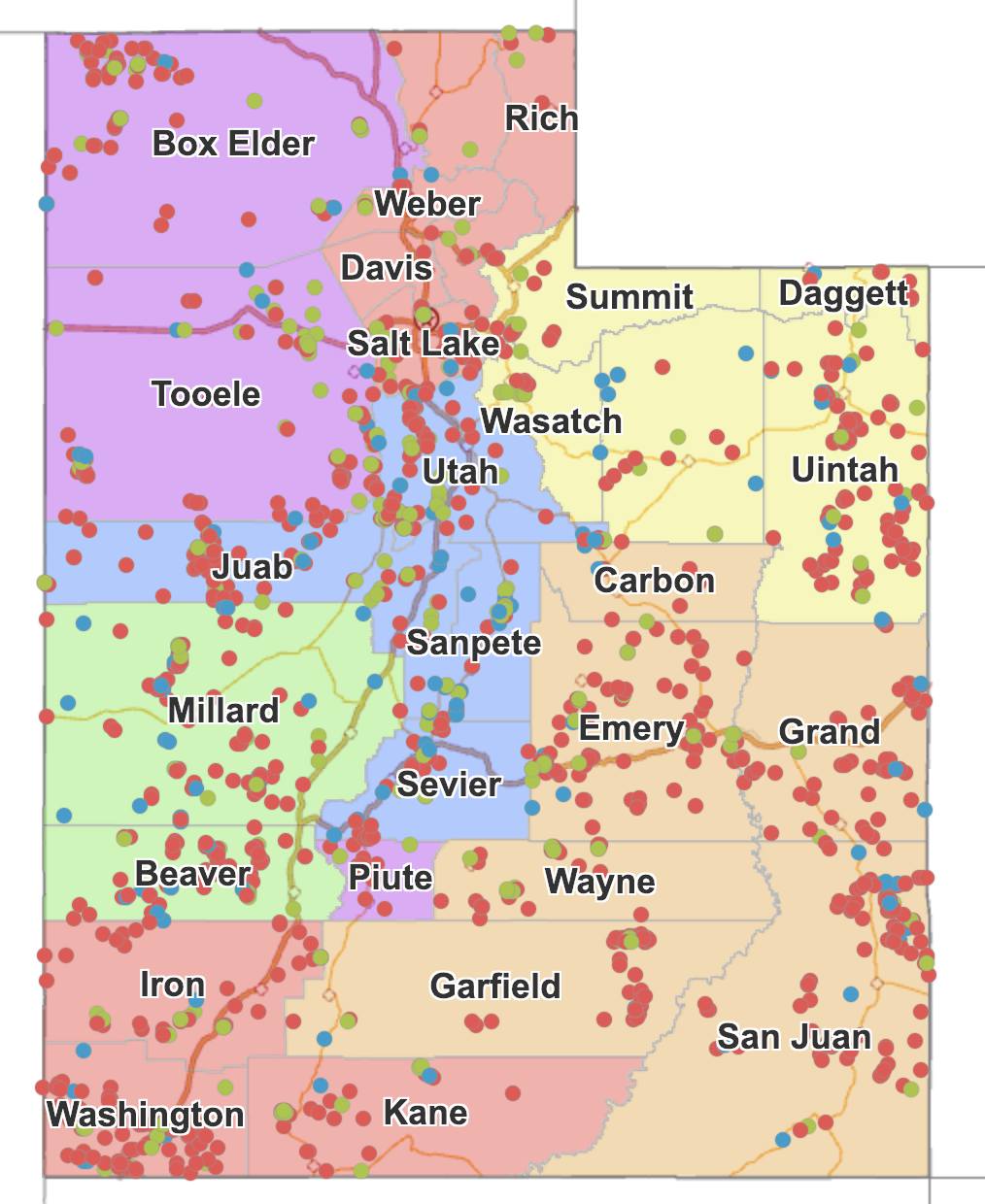 Why we oppose HB527:
Local governments will not be able to restrict a mining operation, stripping them of their discretion to make decisions for the health and safety of their communities.
Mining operations use a lot of water, namely for dust mitigation. There's no telling what the exact impact of the bill would be on our water supply, only that it would require immense amounts of a resource we simply don't have. This bill could unravel any efforts to conserve water and save the Great Salt Lake while also in the midst of a drought.
Air quality would be severely compromised by dust and emissions on top of Salt Lake Valley's already poor air quality, especially during winter inversions.
A growing number of private property owners will be severely impacted. Those in the vicinity of a mine would face a decline in property value, along with poor air quality, water contamination risks, large quantities of dust, and noise and light pollution.
Where did this bill come from?
This bill modifies provisions of law that are part of a pending lawsuit between Tree Farm LLC and Salt Lake County over a county ordinance protecting the Wasatch Mountains, our air and watersheds from mining uses. This bill was authored with help from Granite Construction, their lobbyists, and attorney. It includes a backstop by changing policy for mines to never have local ordinances apply to mining use in the state of Utah.
At 634 acres, Tree Farm's proposed gravel pit would be the largest mining operation in the Wasatch since the establishment of the Point of the Mountain quarry. HB527's expansion of what constitutes a "vested use" would likely include Tree Farm's project site and its adjacent properties, totaling over 1,000 acres in Parleys Canyon.
While the amount of water needed for this project has yet to be disclosed, it is estimated that there will be 144 truck trips per day to transport between 600 million and 1 billion gallons of water per year. This would undermine efforts by entities like Salt Lake City, who are trying to find ways to dedicate billions of gallons of water to the Great Salt Lake to keep the ecosystem on life support.
The process of choosing a location for a mineral production zone (mining operation) should warrant careful consideration of the impacts on affected communities, wildlife, and environment. It's not as straightforward as starting a mining operation at a site simply because it's been mined before, or is next to another mine.
This is a complicated issue for the Wasatch Mountains and the entire state of Utah. Save Our Canyons opposes HB527 and continues to work with government officials and community members to gather information and answer important questions about this bill.
Out of abundance of caution and perhaps our last opportunity for civic engagement on mines impacting our communities, we are urging you to contact Gov. Spencer Cox, President Stuart Adams, Speaker Brad Wilson and your senator and representative. It may behoove you to include your local elected officials – they must know that protection of the Wasatch from Gravel Pits to Gondolas, road widening projects to reduction of wilderness protections are presently threatening the Wasatch. Mere years after the inking of an Accord to stand against these threats.
What can you do?
Learn more at SaveParleys.org
Share this information far and wide. To stop this bill, we need the community to stay vigilant!