Your voice matters! Mountain Accord comment period closes MAY 1, 2015. Send comments to - Edit: the comment period is now closed. This post remains for archival purposes.
By Carl Fisher, Executive Director of Save Our Canyons
This past week, both chambers of Congress passed a non-binding budget resolution to sell or give away all our public lands other than national parks and monuments. Let's also not forget that our local congressional delegation opted to pursue the sale and development of our watershed and national forest via "SkiLink," passing over a compromise consensus conservation package that would have placed additional protections on our cherished Wasatch Mountains.
At the local level, our Legislature nibbles away at the land use management act every year, stripping local government's ability to enact ordinances to protect our watersheds from development and degradation. A few short years ago the state Legislature, at the request of the ski industry, passed a resolution to expedite the process to interconnect all the ski areas. Today, we see the construction of restaurants and conference centers on top of our once hidden peaks instead of the enacting proactive conservation strategies — all this despite overwhelming public support for protection of our wild spaces and watersheds
So why Mountain Accord? Because the built environments of the Wasatch Mountains that exist today are the results of piecemeal jurisdictional decision making, the result of conflict, decisions made by judges evaluating whether an authorization was legal — not whether it was a sage land use decision. The Mountain Accord process is heavily weighted by concerns of the public — the public that skis, the public that hikes, the public that visits on a daily basis, and the public that never sets foot inside our national forest. All voices matter!
Recently, letters have chastised the Mountain Accord, casting it in nefarious light and calling it a problem. The problem isn't Mountain Accord — the Mountain Accord is attempting to find resolution to the long line of projects that degrade the Wasatch. As our population rises, more and more people will flock to this amazing landscape putting pressures on our water, on opportunities for recreation and solitude, losing the irreplaceable natural beauty and integrity of the Wasatch Mountains. The political environments where decisions get made about this threatened landscape may get friendlier, or more likely, more hostile toward conservation of this resource.
To me, the Mountain Accord is not the problem. It is the opportunity. The problem is the apathy that your voice doesn't matter, that a small portion of the public makes the decisions. The problem is that while this region of the Wasatch provides water for more than 600,000 people and is host to millions upon millions of annual visits, yet only 1,500 people have submitted comments to the Mountain Accord. Our own apathy is providing a platform for 0.25 percent of Wasatch water drinkers and 0.125 percent of our regional population to be the leading voice in the Mountain Accord. Your leaders are listening and inviting commentary, but few are taking them up on the offer.
The Mountain Accord Blueprint is open for comment until May 1. There are a number of ideas in it, and they all certainly are deserving of our attention and thoughtful analysis. Read it and tell us what you like and don't like in it.
If we squander this unique opportunity, we'll revert to piecemeal jurisdictional decision making, rather than engaging collaboratively to make regional decisions for a regional resource. Let's secure a future that we as a community are proud to pass on to future generations. The cost of Mountain Accord and finding consensus might not be cheap, but the cost of passing this opportunity up and not finding accord to protect the Wasatch is far greater.
Carl Fisher is the executive director of Save Our Canyons and sits on the executive board of Mountain Accord.
For the past seven weeks, Save Our Canyons has been engaged in a negotiation to figure out our future participation in the Mountain Accord process. As I listened to discussions at our Board Retreat in November, I began to realize there was little, if any good, coming out of the Mountain Accord process especially for the environment, our water, but also for the many dispersed recreational interest that connect so many of us to this unique mountain mecca. Despite overwhelming opposition to a train and tunnels in our mountains from system groups (there was not majority support these ideas) and also for pushing ski area expansion and "One Wasatch." I questioned, why are we still participating and began evaluating our options: I came up with two…
Leave the process because it was doing more harm than good.
Strive to make the process do more good (or at least include some good) than harm.


After numerous conversations with the Save Our Canyons board and our partners with whom we represent on the Mountain Accord, I decided to give option #2 a shot, full well knowing that #1 could be an option down the road. The premise for me as I thought is, one of the greatest threats to this landscape, particularly the Central Wasatch, as I've found over the years is uncertainty. If we can remove this uncertainty, or significantly reduce it, we have a unique opportunity to remove the threats to the Wasatch. Over the years, the most threatened and volatile areas of the Wasatch reside on the lands owned by the ski resorts – Mount Superior threatened with subdivisions and roller coasters, Flagstaff by ski area expansion under the guise of avalanche control, Grizzly Gulch by One Wasatch, Silver Fork by resort expansion, Guardsman Pass by One Wasatch and the threat of year round vehicle access. Is there a way to put these increasingly creative threats to bed once and for all? The short answer is yes… but for what in exchange.
Before you read any further, the Mountain Accord is a public process and we want your input on how to move forward! Click here to view the Mountain Accord "Booklet" and 2 page summary of the Cottonwood Canyon Task Force negotiations then visit www.mountainaccord.com to submit your concerns, ideas and feelings about the future of the Wasatch.
We engaged with the Mountain Accord, the Cottonwood Ski areas, and elected officials to see if there was a willingness to negotiate the transfer of lands owned by resorts. All agreed to try, so in mid-December convened by a facilitator from the Mountain Accord, representatives from the USFS, Snowbird, Solitude, Brighton, Alta, Town of Alta, Salt Lake City, Salt Lake County, the Outdoor Industry, and Save Our Canyons sat down for our first of four negotiations of what will go down in history of being called the Cottonwood Canyons Task Force.
While brevity is not my strength (context is important), I will attempt to summarize the negotiations, some 20 hrs of meetings over six weeks. First, the entire negotiation was predicated upon a rail and tunnels between Little Cottonwood and Big Cottonwood. This is how it was framed – go big, get big. Resorts want efficient, reliable, convenient and safe transportation and they believe that rail best for this. We disagree, but sweeping conservation gains of resort owned lands were not going to happen if buses were the option. Too, resorts want connectivity. This can happen over the snow and ridges in form of lifts (a la One Wasatch) or through the mountain via tunnel with fixed guideway… though rail has a WOW factor attractive to resorts. We, and by we I mean a host of conservation and recreation organizations and our members, have little if any interest in seeing trains in the canyons, however we also have little interest in seeing more development outside resort boundaries, One Wasatch and the other aforementioned (and yet to be dreamed) schemes to exploit the Wasatch.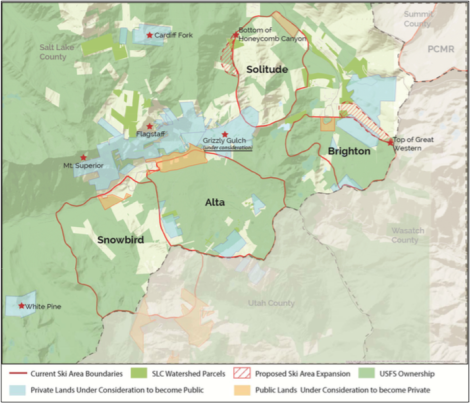 Map resulting from yet to be agreed to negotiations.
Resorts also want more development to accommodate the influx of visitation they project they will see with the projected population growth in the region. Today, this development pattern, which some would characterize as "mountain sprawl," is undesirable. However, with modifications of the ownership patterns we could cluster development to protect key recreation access points, vantage points, connectivity corridors and ultimately our watersheds. Some resort expansion is also requested as part of this. Snowbird further into Mineral Basin and Mary Ellen Gulch, Solitude a bit into Silver Fork, and Brighton into Hidden Canyon. With the exception of Snowbird, Solitude and Brighton's request are minor boundary adjustments bringing areas already used heavily by resort skiers into the ski area boundary.
The crux of the whole effort has been, their request for a train, 100 or so acres of base development and expansion into Mt. Wolverine/Mt. Tuscarora/Catherine Pass area. This point has yet to be resolved because of significant resistance particularly from Save Our Canyons, and the Outdoor Industry represented by Peter Metcalf. As put by Save Our Canyons co-founder and Wasatch Tours author, Alexis Kelner in Volume 2 of Wasatch Tours describing Tuscarora/Wolverine/Catherine Pass, "This tour was more appealing before ski lifts were thrust into Albion Basin, but the spectacular scenery compensates (somewhat) for the commercial intrusion. The Catherine Pass trail is the most popular route between Alta and Brighton in both summer and winter." Alexis also noted, looking into his futuristic snow globe, that this area should be noted as "End." (Endangered) a notation used to warn tourers that an area has high potential for being absorbed into a commercial ski area operation. Fair to say that expansion into this area, in our opinion, will jeopardize the whole negotiation.
So, what is the up shot in all this? Over 2,000 acres of land owned by ski resorts including areas like the Pink Pine Ridge, Mt. Superior, Flagstaff, Days Fork, upper Silver Fork, Davenport Hill, Grizzly Gulch, and Guardsman Pass area going into permanent protection (like Wilderness or National Monument) forever removing the threat of development. This of course is in addition to additional protection on other areas as we've proposed in the past. Over the years, to use Alexis' terminology, its been common practice to add "End." or "R.I.P." to some of our favorite places in the Wasatch. It has not been very often, however, to remove those notations. This effort allows that opportunity. Time for another edition of Wasatch Tours, Alexis!
No doubt this effort will go down in history – my expectation is that it goes down in history alongside the protection of Yellowstone and Yosemite, not like Echo Park, which sacrificed Glen Canyon to protect Dinosaur's Echo Park, and the Yampa and Green Rivers. A unique and spectacular landscape for sure, but worth drowning the Glen and choking the Grand Canyon? We've worked to shape this outcome, now we need YOU to help us understand whether or not it is a good deal. The train and additional development are certainly undesirable, but the lure of conservation of valued private lands in the Central Wasatch is attractive. Send us your thoughts, make sure the Mountain Accord gets them too. The comment period begins Feb. 4. There will be more info part of this than what we've presented here.
Please let us know your thoughts, we tried our best through this process, but the ultimate protection of the Wasatch lies in the opinions of our community and validation of the ideas that we've carefully advocated for to better the Wasatch for today, and for tomorrow. Inaction at this point, is not an option – add your voice to the Mountain Accord, and ensure that future generations have clean water, habitat for a community of wildlife, places to enjoy the wilderness, and places to enjoy unprecedented recreational access to an intact and wild landscape – our island of wild in a sea of booming population growth.
This is critical, we need your voice now!
In conservation,
Carl
Mountain Accord and the Wasatch Mountains - Where we are, where it is, and where it is going
By Carl Fisher
To fully understand and appreciate the Mountain Accord process, you have to understand and appreciate the history of conflict that brought us to this place in time, what in essence convened the Mountain Accord. Too much time and energy has recently been spent worrying about a train versus a bus, and the dialog has enclouded our vision for this important resource. So for a moment, I'd ask you to cast aside your disdain for UTA and modes of public transit and let me impart my view of the landscape in which we are operating. A short three years ago, the Wasatch Mountains were a very different place. Their fate hinged on the rulings of planning commissions, on forest plan amendments or decisions from our local Forest Supervisor, on the defense of our watershed managers, and on the outcry of citizens. As many of us know, the lands inside the Central Wasatch Mountains reside in several different political jurisdictions. If you look solely at the mountainous region – I count at least a dozen. There are a dozen different planning commissions and government agencies all with different visions for a place that is fifteen miles wide and fifty miles long.
Over the years we've worked with them one by one, sometimes but not always collaboratively, to have a conservation vision emerge. When cutting up a pie, at some point you cut so many pieces that it all just falls apart. This is how the political jurisdictions of the Wasatch have affected our environment – it's on the brink of collapse, and development pressures threaten the last wild bastions of the Central Wasatch.
What the Mountain Accord has attempted to do is to bring all these jurisdictions (and a few more) to the table simultaneously to work toward finding resolution. So after engaging over 100 organizations and a number of interested people from the public, Mountain Accord has unveiled a number of visions. Those visions are expressed by the four Interest Groups of Mountain Accord: Environment, Economy, Recreation and Transportation. Each of those groups had areas of strong concurrence and areas of strong disagreement. The job of the Mountain Accord Executive Board has been to put together what they see as a posible path through all of this. That is what brings us to the Proposed Blueprint to Preserve the Central Wasatch.
The "Blueprint" is less of an actual blueprint and more like a menu of options. As when you look at any menu, there are certainly going to be items that you like and others that will leave a bad taste in your mouth. But it's important to see them all as items that warrant additional study. It is also important to note that the items presented are not final, and we're relying on your feedback to shape the final outcome. It is not set in stone, it is malleable and awaiting your voice. Make it heard!
So what's positive and what's negative in the Proposed Blueprint?
To answer this I'll put it in terms Good, Bad, and Ugly, categories that are familiar to the readers of the SOC Newsletter. Please note that I have added several new categories including Exceptional, Awesome, and Redundant.
Mountain Accord Proposed Blueprint Comments
Environment Actions
Exceptional – Mountain Accord is proposing to add Federal protections to the public domains of the Central Wasatch Mountains!
Good – Mountain Accord is proposing to strengthen watershed protections in the Wasatch.
Good – Mountain Accord will work to find funding to help local jurisdictions, the USFS, and land trusts acquire property from willing sellers and place those areas in conservation.
Huge – Mountain Accord will mplement an environmental monitoring and reporting program to help understand our impact on the Wasatch Mountains and dentify key criteria to help improve environmental and watershed health and protect wildlife habitat.
Cautiously optimistic – Mountain Accord proposes transportation alternatives that help improve environmental conditions. We need more info to completely understand this, which is the purpose of Phase 2.
Recreation Actions
Long overdue – Mountain Accord will insititute a well funded trails stewardship and maintenance program that will make sure that our trails are promoting a healthy environment and a variety of uses, degrading neither the environment nor the experience.
Good, but – Mountain Accord will protect outstanding recreational opportunities that currently exist on private land owned currently by ski areas, but transferring them into public hands. (But see Cottonwood Negotiation Outcomes for some information about incomplete negotiations).
Great – Mountain Accord will explore a user fee to help establish a funding mechanism to improve and maintain the recreation experience in the Cottonwood Canyons
Good – The members of Mountain Accord's Recreation System represent a variety of users and activities, all of which contribute to our unparalleled recreational opportunities.
Economy Actions
Exceptional – Mountain Accord will encourage development patterns that preserve community character and quality of life. This means focusing future development in urban areas, which add vibrancy to our local economy while keeping development outside the canyons.
Good, but concerning – With better connectivity comes the potential for increased economic gain. (Further detail is needed to understand what types of connectivity are supported by the public and least impactful to the environment, which is the purpose of Phase 2.)
Good – Mountain Accord will "Prioritize and fund opportunities to protect and enhance the environment." With emphasis placed on the environment, preservation and increased tourist opportunities just 15 or so minutes from the canyons our year round economy can continue to grow.
Bad – Mountain Accord has a tendency to see the natural environment as a "product" to be marketed for one use. We must first address the health of the ecosystem and the capacity of the region before opening the gates in the name of selling a "unique urban-mountain brand."
Redundant – The Wasatch Mountains are not
in Europe, nor are they areas of Colorado or California. We are already "unique to the world" and our economy can only remain healthy if the Mountain Accord implements decisions that protect the diverse landscape and uses. Let's continue to protect what make the Wasatch unique and stop pretending we are something we are not.
Transportation Actions
Good and Long overdue – With the increase in visitation, high pollution levels, parking congestion and impacts to the watershed from single occupancy vehicles, mass transit for the Cottonwood Canyons is well overdue.
Great – By furthering the discussion on bus rapid transit, rail, limiting single occupancy vehicles in the canyons, and increased capacity for park and ride lots outside the canyons Mountain Accord can decrease the need and viability for over-the- snow between-resort connections such as One Wasatch.
Good – According to UDOT, "U-210 (Little Cottonwood) has the highest highway avalanche hazard index of any major road in the U. S." Mountain Accord's public transit options may mitigate risk to wintertime visitors from avalanches.
Cautiously optimistic – With all the focus on
a train and tunnel outcome it is important to remember that those are just two of the options being considered for study through Phase II of the Mountain Accord.
Ugly – Any transit option that impacts our watershed and environment, flora and fauna, access and quality of life before being vetted by the public and studied subjected to an Environmental Impact Study under the NEPA process would be irresponsible.
Worrisome – Mountain Accord in phase 2 should look at getting people to the canyons not through the canyons. It's a simple change of a preposition, but missing opportunities to streamline transit in the Salt Lake Valley is ignoring the root cause of our mobility issues in the region.
Cottonwood Negotiation Task Force Outcomes
Bad – Snowbird is negotiating a land exchange with the USFS for areas in Utah County. These lands would surely be developed by Snowbird as they edge toward securing a second base in Utah County.
Awesome – As part of that same land exchange (Snowbird and USFS), parts of Mt. Superior and Flagstaff Mountain, plus in-holdings in White Pine and Days Fork would all be permanently protected from future roller coasters, condo developments or ski areas expansion.
Concerning – Solitude's portion of the land exchange includes a realignment of the Honeycomb return lift, allowing it to pick up skiers descending Silver Fork. No lift would be built in Silver Fork, but it remains to be seen how backcountry skiing would be impacted in upper Silver Fork.
Fantastic – Strategic portions of Guardsman pass area would come into public ownership preventing future development pressures from both ski areas and condo builders.
Bottom line – The future of Grizzly Gulch is still under negotiation. Protection of this area from ski-area expansion and development is essential to the success of Mountain Accord.