Mary Eargle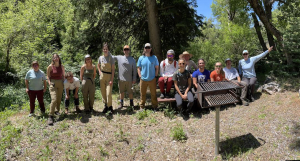 On June 26, Save Our Canyons teamed up with Nicole Smeeding, Watershed Special Projects Coordinator, from Salt Lake Public Utilities (SLPU) to host a volunteer-based weed pull up City Creek Canyon. The weed we targeted is garlic mustard which is invasive in Utah and the Intermountain west. This weed chokes out surrounding plant populations and is notorious for taking over the forest floor. At our event, 15 volunteers spent about four hours removing and bagging this noxious plant from a severely affected area. We had to mechanically remove the plant as it was growing along the river and pesticide application would have been detrimental to the riparian habitat - this is why volunteers are so important!
By the end of the day, SLPU was able to haul off 44 large trash bags full of garlic mustard. The affected area looked remarkably better after the combined efforts of our volunteers and the public utilities team. We appreciate Nicole for working with us to coordinate this event. In the future, we hope to continue to support their efforts to eradicate this invasive plant and others from our canyons.
Recruiting community involvement is always essential to make these efforts possible. We always value feedback on how these experiences land for our volunteers. Alyssa Sutton, who attended the garlic pull event, shared with us how it impacted her. "It helped me feel more hopeful for the future," she said, "getting to meet other people who care about the environment [in Utah] staying healthy and beautiful." SOC is grateful to all those who take time out of their week to attend or volunteer at any of the events we host.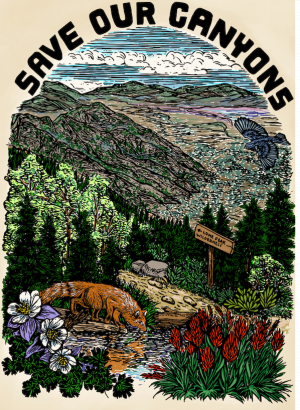 In the spring of 2022, Save Our Canyons joined forces with three amazing groups in Northern Utah. We partnered with Coalatree and The Hex Press Printing to create fabulous custom sun shirts with an original SOC design to celebrate our 50th Anniversary. On July 21, 2022, we hosted a community event at Fisher Brewing Company to fundraise for SOC, expand on current campaigns, sell sun shirts, promote our volunteer season, and engage with locals. This was a wonderful way for us to celebrate 50 years of protecting the Wasatch mountains. We couldn't have asked for better company or felt more supported by our community partners.
Fisher Brewing Company is a local hotspot in downtown Salt Lake City. They have shown themselves to be not only interested in selling great beer, but also in the betterment of Utah's community and the Wasatch Mountains. Fishers' reputation for advocacy has led them to become a gathering place for dedicated folks in Salt Lake County. The owners and staff never fail to make SOC feel welcomed and the patrons are always earnestly interested in learning more about the issues the mountains are facing. In a state where legislators, developers, and politicians don't always see SOC as a friend, it is great to spend an evening at Fisher Brewing Company and feel the community's passion for conservation.
SOC is thrilled to partner with Coalatree in creating merch for our 50th anniversary celebration. Coalatree is an outdoor rec equipment company that was founded on the principles of sustainability. Every step of their production process uses methods that reduce waste, utilize renewable energy, and consume less resources. We are ecstatic to highlight a company that is at the forefront of the sustainable clothing movement. Their high-quality sun shirts were the perfect product to carry SOC's anniversary logo.
Another group that has made SOC's 50th anniversary extra special is Utah's very own Hex Press Printing company. The owner, Anna Hansem, created an original design for SOC's anniversary commemoration. She then painstakingly carved it into multiple wooden blocks, which were used to print the multiple designs by hand onto each Coalatree sunshirt. Anna's creation is a perfect example of how art is an invaluable tool in the fight for the Wasatch mountains. Her pieces wordlessly capture the beauty of the biodiversity of plants, animals, and people who exist across the Wasatch. Showcasing native wildflowers, a curious fox, the Lone Peak Wilderness, and the Salt Lake Valley beyond - it silently reminds the viewer how crucial it is to protect the environment and stay involved in the fight.
Save Our Canyons feels privileged to have been able to operate in Utah for the past 50 years. We were founded in 1972 in response to development pressures in Little Cottonwood Canyon. Since then, we have worked relentlessly to protect, restore, and educate. Countless recreationalists enter these canyons every day. People don't often stop to think about the effort that goes into conserving them. And that's how it should be- the mountains and the beauty they contain ought to be unquestionably secured for future generations. Unfortunately this isn't the case- yet. But SOC will not rest until that goal is reality. We are so grateful to know that we are not alone in this fight. We at SOC know that even if we are furiously typing up a rebuttal against a proposed mine in Parleys or gondola towers in Little Cottonwood, there is an army of Utahns cheering us on every step of the way. Thank you to you, who is reading this, for your support of us and all of the groups that we mentioned before, in trying to make Utah a better place.
Another way you can support Save Our Canyons is by purchasing a Suray Sun Shirt by Coalatree. We only have a few left after our event in July with Fisher Brewing Company and The Hex Press! If you want to buy a 50th Save Our Canyons Sun Shirt, please do so today as items are selling out fast.
.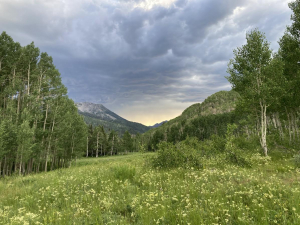 Written by, SOC Intern, Mary Eargle
I moved here from the East Coast almost two years ago. I had been living here for a few months before I began to notice that something was missing. Where were the trees? Where was the humidity? Where were the sounds of crickets at night? The praying mantis that would show up on my windowsill? The colorful birds and the even more colorful flowers that I would see on a neighborhood stroll? It began to feel like I had wandered much, much too far from home. And I even thought I was beginning to hate it here.
A few months ago I had too much time to kill, so I drove until I found a random trailhead that was busy with people. I began to walk. I was only planning to walk for a few minutes. But I noticed the air was getting a little more humid, and it drew me onward. Then I began to notice beautiful blue flowers on the trail, so I continued to follow them. Pretty soon there were fields of these blooms, and the trail began to go up and up. I thought, "Might as well keep going!" I hiked on. I met a man who told me, "Keep it up, you're almost to the top!" The top?! I had never summited a mountain in my life. But why stop now. I went on and found stunning yellow flowers, followed by tiny purple ones. I quickly started to realize these mountains are very biodiverse! I finally reached the peak, and saw the most spectacular views I'd ever seen in my life. This was one of the most incredible experiences of my life.
As I was reaching the end of my hike back down and the sun was setting, I heard the sweetest sound. There at the mouth of the canyon, a chorus of crickets began to chirp. I felt like a child again, falling asleep to the same sound outside of my window. It brought more than a few tears to my eyes.
It was shortly after this I began my internship with Save Our Canyons (SOC). I started off not even knowing the difference between "The Wasatch" and the "Uintas". I just knew that I have always loved nature and I wanted to protect it. During my time with SOC, I have learned much more than just what the acronyms BCC and LCC mean. I have seen how invaluable this organization is to the preservation of the Wasatch and the environment it holds. Before now, I always blindly assumed that the natural world was securely protected. However, the unfortunate truth is that economic gains often end up being put in front of conservation. It is only with the combined voices of the Utah community that these lands can responsibly remain open for public recreation, and not fall to privatization by small interest groups. My involvement in volunteer opportunities hosted by SOC has helped me see the canyons in this new light. The canyons are not solely the government's responsibility, or the ski resorts responsibility, but all of our responsibilities. It is our job to preserve them.
Save Our Canyons' community outreach invites everyone to enjoy, respect, and experience the solitude and beauty of this state's hidden gems. As an outsider to Utah's recreation life, I have found my internship with SOC to be the key to my reentering the natural world. Whether it be hosting an invasive species pull up City Creek Canyon with Salt Lake Public Utilities or hiking up Big Cottonwood Canyon at Willow Lake with Utah Native Plant Society to see a rainbow of wildflowers - Save Our Canyons truly understands the value of community inclusion in their work. Utah's canyons are unlike anything I have ever experienced, and I finally see what everyone has been working so hard to protect.