We've lost 30% of the natural forest habitat in the Central Wasatch to development. As we continue forward with land use management, we must realize that our use alters the habitat, water and ecosystem. We are still understanding how that development has impacted endemic wildlife migration and vitality. One thing is for certain, now is the time to support and implement big ideas to protect the undeveloped, wild land of the Wasatch in concert with management planning and personal responsibility while out in the mountains.
The Central Wasatch Commission has released an updated version of the Central Wasatch Conservation and Recreation Area Act (NCRA) for your review and comment.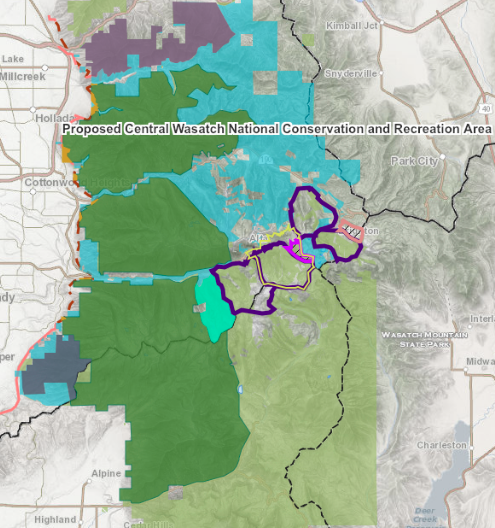 What is the NCRA and how is Save Our Canyons involved
The Wasatch Mountains are a patchwork of management, ownership and use. Over the last several decades SOC has been the leading voice advocating for collaborative action to best manage and ultimately conserve this valuable and iconic landscape. Since 2016 Save Our Canyons staff, board of directors, members, and volunteers have been hosting and attending events to spread the word about this important opportunity to preserve public lands in Millcreek, Big and Little Cottonwood Canyons of the Central Wasatch Mountains. Thousands of people have signed our NCRA petition and now we're asking you to help move us down the trail toward realizing the designation of this important legislation.
What does the NCRA achieve
Management: Trails and trail connectivity, toilets, public transportation and safety
Protection: Watershed, plants and animals, public lands, private property rights
Curtails: Resort development outside of existing resort boundaries
Why do I care
Save Our Canyons is comprised an energetic community that love the Wasatch Range. We are driven by an active, supportive membership but act on the behalf of the millions of people who visit the Wasatch to experience beauty, solitude, adventure and restoration. When passed, this refined version of the NCRA will achieve our goals for comprehensive public land conservation.
We've made positive strides in dispersed recreational access, improved trail connectivity, strengthened watershed protections, and focused on better protection of wildlife habitat and corridors — all while prohibiting the construction of more roads, building a stronger case for improved public transportation, and prohibiting ski area expansion on public lands.
How should the NCRA be improved
One of the biggest issues with the current version of the legislation is that public lands at the top of Little Cottonwood Canyon, Grizzly Gulch & Patsey Marley to Catherine Pass are not being protected by this legislation. This leaves these areas vulnerable to resort expansion and/or ski lift interconnect... both of which Alta Ski Area is pushing for.
In the bill's language they use a definition of Mountain Transportation (section 2 (a) (7) that is very supportive of connecting bases of ski areas. Given the many year round uses of the canyons and other conservation goals, we need to llet the commission know that mountain transportation's focus should NOT be on connecting ski area bases, rather working toward sustainable transportation solutions that reduce congestion, vehicle emissions, and the need for converting additional wildlands into parking lots.
Public comment period open until Thursday, September 19!
I support the NCRA; what's next
Our goal, in partnership with the largest contingent of support any public lands bill the Wasatch has yet seen, is to pass this legislation.
Become A Member - We need YOU to help us by making a contribution to Save Our Canyons – $5 a month or an annual donation makes our work possible. Donate Today!
Spread The Word - Tell your friends, family, community or school groups about Save Our Canyons. Word of mouth advertising is our bread and butter but you can also follow and share our social media posts and "action alert" emails.
Donate Your Time - Volunteer to host a house party, spend time at the SOC booth at an event or join us on a trail day or highway clean up. Volunteer Today!
The Wasatch Range is host to 9 million annual visitors, today you can be one of those that gives back by submitting your comment on the Central Wasatch Conservation and Recreation Area and joining as a member of Save Our Canyons.