Click here to submit your comments to the CWC!
Public lands are amazing. They form the backdrop to some of our most revered places, they hold the water that our communities depend upon, and provide habitat for the animal species we hope to catch a glimpse of. We could go on and on about our love of public lands, but one of the things that makes these places so unique is that YOU get a voice in how they should be managed. What should be protected, what should be used for some other purpose, as the US. Forest Service's (USFS) newish motto boldly states, "It's all yours." But is it really all yours?
The USFS has recently published a draft rule, changing how the public engages with the National Environmental Policy Act (NEPA) process. And by engages, we mean actively cutting you out from projects that impact your watersheds, your forests, and your public lands. The National Environmental Policy Act is a bedrock of public lands management. It is more of a procedure than an environmental regulation, but it has been built around a very thoughtful public engagement process, that is for all intents and purposes transparent. The law requires disclosure and response to concerns/comments, but does not force the environmental alternatives to rise to the top. What the agency is taking aim at in its proposed rule change is efficiency, and the casualty is public engagement. Simply put, the USFS believes that decisions can be made faster if they don't include the public.
For instance: do you think you should be able to provide input if the USFS wanted to put a new road on public lands? Under the new rule change, you'll be lucky to know if they are even going to undertake that project. What about Wasatch Powderbird Guides getting a renewed permit despite a change in conditions on the National Forest? Well, the agency doesn't even have to ask the public if they believe there have been any changes.
So, this could be the last time the USFS accepts public comment on many projects that might impact your watersheds and your enjoyment of public lands. Afterall, the Trump Administration knows better than any of you, so in their paternalistic way, their gift to you is to not even bother telling you what shenanigans they are up to. We hope you'll let the USFS know they are violating a social contract and undermining what is at the core of public lands: the public. Comments due by August 26.
Be heard! Click to learn more about NEPA Revision, Scope and Public Comment
Speaking of public engagement and commenting, the Central Wasatch Commission, is holding a 30-day comment period on the latest iteration of the Central Wasatch National Conservation and Recreation Area Act (NCRA). While the USFS changes to NEPA would alienate the public, we've been working in the light of day with local leaders to give greater guidance to protect the Wasatch and give a stronger deference to what makes this area magical. We've made positive strides in dispersed recreational access, improved trail connectivity, strengthened watershed protections, and better protection of wildlife habitat and corridors — all while prohibiting the construction of more roads, building a stronger case for improved public transportation, and prohibiting ski area expansion on public lands.
National Conservation and Recreation Area - Click here to submit your support, suggestions and comments to the Central Wasatch Commission by September 19, 2019.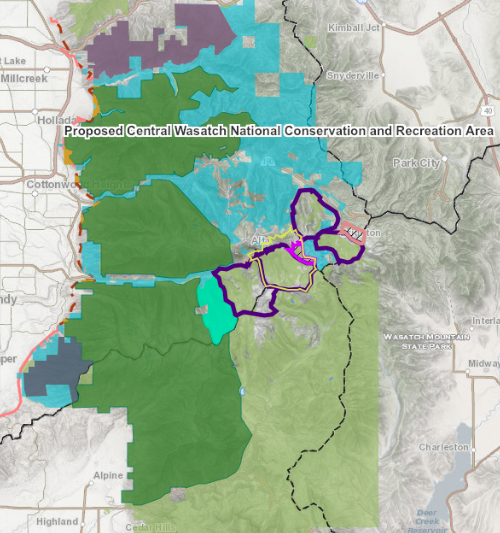 One area within the NCRA we have yet to find resolution on are the public lands within the Town of Alta. It's not for lack of trying. As drafted within this legislation, it is not clear if these lands can be used for future ski area expansion by Alta Ski Area. However, leaving these public lands out of the legislation creates a vulnerability to resort development.
In the event the USFS is successful in eroding NEPA, this proposed federal legislation will help give the Wasatch a fighting chance in the absence of your thoughtful advocacy. This is why, since 2016 Save Our Canyons staff, board of directors, members, and volunteers have been hosting, attending, and spreading the word about this important opportunity to preserve 80,000 acres of the Central Wasatch Mountains. Thousands of people have signed our NCRA petition and now we're asking you to help move us down the trail toward realizing the designation of this important legislation.
Please attend: Central Wasatch Commission Public Comment Forum - September 9, 2019 at 4:00 p.m.
Your involvement in this trio of actions will promote the importance of conservation under an administration that seems hell-bent on removing tools and protective status on ecosystems and wildlife across the country. Acting locally, showing up in numbers, and providing constructive ideas will make our efforts all the more tangible as we seek to pass the Central Wasatch National Conservation and Recreation Area Act.