Last week, the 45-day 2023 legislative session wrapped up with a record-breaking number of bills. Your attention and action helped shape the Wasatch for the better by stopping bad water policy from weaving its way into our watersheds, halting a bill overriding ordinances to facilitate a gravel pit in Parley's Canyon, and getting a $150M appropriation to improve bus service in both Big and Little Cottonwood Canyon, to name a few. However, poorly thought-out bills still slip through.
Bill Updates
TAKE ACTION: VETO HB469 Wildlife-Related Amendments
In the final moments of the session, the legislature passed an appalling bill that says anyone with a hunting license can trap and shoot cougars (mountain lions) year-round, with no special permit needed. There would be no limit on how many cougars can be killed per year. We need you to contact Governor Cox at (801) 538-1000 and ask him to VETO HB469 Wildlife Related Amendments by March 23rd.
Utah consistently kills more of its cougars than almost every other state, even those with greater populations of cougars. HB469 faces widespread opposition from hunting groups like the Utah Houndsmen Association and conservation groups. Cougars play an important role in the healthy functioning of ecosystems in the Wasatch Mountains and promote biodiversity. This bill could unravel over a decade of conservation efforts to strengthen cougar populations across Utah.
This open season of cougar hunting would abruptly replace the Utah Division of Wildlife Resources' 2015-2025 Cougar Management Plan and permit system. Sen. Sandall did not seek any input from the Utah Division of Wildlife Resources before adding these provisions when the bill had already reached the Senate Floor. This not only disregards the public process, sound science, and the careful collaboration and planning that goes into wildlife management, but it shows a lack of respect for the wildness of the Wasatch and its wildlife. Contact Gov. Cox at (801) 538-1000 today and ask him to veto HB469.
HB527 Mining Operations Amendments did not pass
Over 900 emails were sent to elected officials advocating against HB527 Mining Operations Amendments – thank you for your advocacy! This bill was stopped in the House Rules Committee. Rep. Stratton's proposed bill would have expanded mining operations statewide while dodging local regulations. It likely would have shifted the ongoing lawsuit between Tree Farm LLC and Salt Lake County in favor of Tree Farm and its proposed 634-acre gravel pit for Parley's Canyon.
HB276 Water Supply Amendments will be discussed in the interim
Rep. Lyman's HB276 Water Supply Amendments will be worked on during the interim after being tabled in the House Natural Resources Committee. This bill would have required Salt Lake City to supply water outside of its service area to dry lots in the Wasatch Mountains.
Little Cottonwood Canyon Gondola Update
$150 million in Transportation Funds for both Big and Little Cottonwood Canyon
The legislature appropriated $100 million dollars for the Utah Department of Transportation to enhance bus service, enact tolling, build a mobility hub, and add bus stops in the Cottonwood Canyons. This will be supplemented by $50 million from the Cottonwood Canyon Transportation Investment Fund, bringing the total amount to $150 million. We are on the lookout for further details on the type of mobility hub and its location. We support the legislature's decision to fund common-sense solutions to help alleviate traffic in our canyons.
Wasatch Front Regional Council discussing final transportation plan
Thank you for your comments on the Wasatch Front Regional Council's (WFRC) draft Regional Transportation Plan (RTP). The WFRC will likely discuss whether to include the proposed gondola in their final RTP at their May 25th meeting, although there is a possibility that they could discuss it at their March 23rd meeting. If the gondola is included in the final RTP, it could make it easier for UDOT to fund the gondola in the future. Submit a comment to Gov. Cox or order a no gondola yard sign here.
HR3 House Resolution Concerning Ski Season Transportation did not pass
Rep. Eliason proposed the HR3 House Resolution Concerning Ski Season Transportation, which called on UTA to 1) address the current driver shortage, and 2) explore the option of allowing other entities to rent their buses for ski transportation before the next season. While this resolution did not pass out of the House Rules Committee, we were encouraged to see a conversation by the legislature about the issue of ski transportation and a call for immediate action.
Global Climate Strike
On March 3rd, Save Our Canyons joined the youth organization Fridays for Future Utah for the Global Climate Strike. It was powerful to see all the youth that called on legislators to invest in their future, not climate chaos. Katie Balakir, a policy associate with Save Our Canyons, spoke about the importance of developing real solutions to save the Great Salt Lake, including better public transportation that would help clean our air and lessen dependence on fossil fuels. Thanks to everyone who showed up – your tenacity and passion are so inspiring!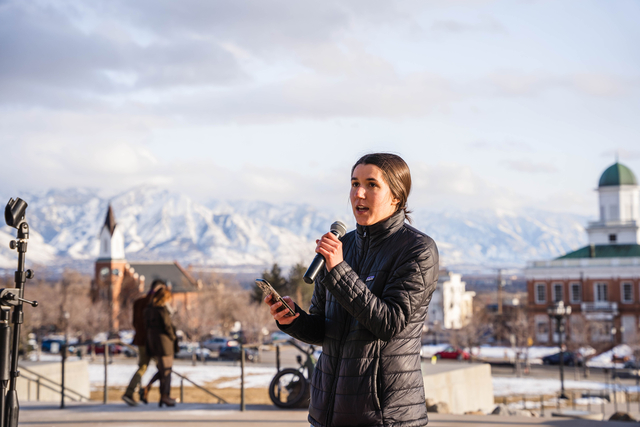 Image by Grey Jensen
Pika Fact of the Week: Pikas can regulate their temperature by changing their body posture. In winter, pikas are often seen with a spherical body shape that conserves more heat, whereas in summer, their bodies are more oblong.