On December 10, the Salt Lake County Council unanimously voted on an amendment to an ordinance to eliminate mineral extraction and processing as a conditional use from the Forestry and Recreation Zones (FRZ). You can find the proposed ordinance and the Mineral Extraction Ordinance HERE.
Next this amendment will go on to the SLCo Planning Commission to discuss and make a decision on the proposed amendment. This is likely to occur in February next year. In the meantime, a planning freeze is in place for mining extraction and processing.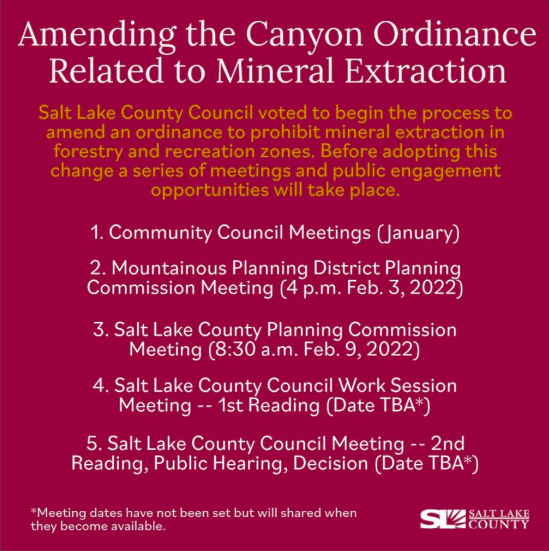 These types of extractive and impactful uses should be prohibited from the Wasatch's Canyons. We are asking for your support to make that a reality. With the Utah Legislative Session beginning in January, as well as the ongoing county and state processes, securing funding for legal counsel to help us engage with this process at the correct and effective times is our best defense.
Save Our Canyons, along with support from other organizations and residents believe we should be protecting these ecosystems for all that depend upon it. This is why we need strong policy and environmental regulations to be implemented and upheld so we can restore and preserve the Wasatch Mountains for current and future generations.
Some people have pointed out the fact that Parley's Canyon is already a main transportation artery or see it as significantly impacted habitat so why act to prevent this mine and protect the land?
Wildlife Populations and Habitat: The mining company acknowledges the presence of herds of wintering elk, moose, black bear, mountain lion, and other big game, as well as species like the golden eagle and the endangered Canada lynx. While the company provides a fairly extensive list of animals, it's silent about many of our other vulnerable friends: the porcupines, the red foxes, the tiny saw-whet owls, shy long-tailed weasels, flying squirrels, pollinating bees, skunks, grouse, hummingbirds, the susceptible Bonneville cutthroat trout, and many other species that live in the area, all of which stand to be adversely affected by the company's blasts and strip mining activity.
Recreation: Impacts to popular recreation destinations nearby, including hiking trails on the northern hip of Grandeur Peak (from beneath which the company intends to extract rock), the Wasatch Trail, Parley's Historic Nature Park, rock climbing wall The Iron Curtain, and the Parley's Trail, as well as many bike paths, nature trails, and campgrounds in Millcreek Canyon.
Traffic and Safety: Significantly increased truck traffic, as well as stray rocks and gravel on the highway, pose a material risk to the 60,000+ vehicles that navigate I-80 past the mine site on a daily basis.
Wildfire: Elevated fire dangers imposed upon not only the adjacent Mount Aire community but the entire sub-range which extends to Millcreek Canyon, Summit Park, Lambs Canyon, and beyond; a potential for wildfire to be sparked by any one of the hundreds of industrial 18-wheelers driving off-highway during dry months.
For almost 50 years Save Our Canyons has worked to address capacity, conservation, and impacts from a growing populations on the Wasatch Range. This is a much larger issue for the Wasatch and our region. Save Our Canyons continues to work with government, elected officials, and members of the community to gather information and answer important questions about this proposed mine. We encourage you to learn more, sign our Parley's Canyon petition, contact your local officials, and share these resources with your friends, family, or neighbors.
Sign Our Parley's Canyon Petition