Currently, there are two efforts being undertaken that need your input about access and traffic congestion. Utah Department of Transportation is seeking your perspectives and ideas on a draft scoping Environmental Impact Statement (EIS) for transportation issues between Wasatch Boulevard and Little Cottonwood Canyon.
In addition, to UDOT's scoping process, the Central Wasatch Commission (CWC), has outlined goals for their Cottonwood Canyons (LCC and BCC) Transportation Action Plan (CCTAP) which in summary is to ensure a safe, reliable transportation experience that supports the natural and intrinsic values of the Central Wasatch Mountains.
Please join UDOT and the CWC at a public open house on Tuesday, April 9th from 4:00 to 8:00 p.m. at Cottonwood Heights City Hall. Map and details HERE.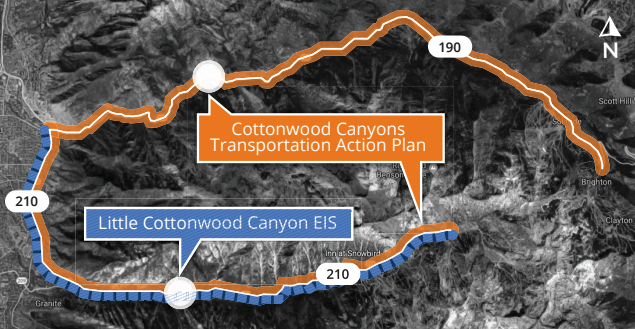 As we have seen in recent years, transportation, management and safety in these canyons have come to a head. Winter, powder day traffic congestion is not sustainable, but there also exists heavy use year round. As someone who recreates, enjoys and admires the Wasatch we are asking that you take the time to attend the public meeting on April 9th from 4:00 to 8:00 p.m.
At the open house, you will have the opportunity to learn about the goals and objectives of Little Cottonwood Canyons Environmental Impact Statement, and the Cottonwood Canyon Transportation Action Plan, as well as leave comments. View UDOT page HERE and CCTAP documents HERE.
Below we've outlined a few specifics to help explain how these issues are connected and how Save Our Canyons is approaching the long-term water quality, health, and visitor experience in the Wasatch Range. Currently, the CWC is seeking input in Big and Little Cottonwood Canyons, the Little Cottonwood Canyon EIS has specific improvements that UDOT is taking under consideration.
Avalanche Mitigation: A number of proposals have been identified over the years as to the main mode of transportation up Little Cottonwood Canyon (trains, tunnels, gondolas, bus rapid transit), for example. Idealy, but unlikely is a change of habit by us powder hounds to simply wait, from home or even another day for the canyons to be open safely and then proceed to enjoy the new snow. As social changes are only one component, SOC's perspective is to focus on infrastructure outside of the canyon and implement a dependable, affordable bus transit system that replaces private vehicle as the main mode. Efficient access from the valley to the resorts as well as undeveloped trailheads is a must.
Trailhead Parking: The main questions SOC is seeking to have answered is whether we have a goal of accommodating cars or accommodating public transit? In recent planning and visioning processes, a large contingent of stakeholders identified high, medium and low density recreation nodes to allow for the variety of year-round recreation that takes place in the canyons:
High – Ski resort
Medium – Such as White Pine, Grist Mill
Low – Roadside pull out
Wasatch Boulevard Mobility and Adjacent Neighborhoods: Currently, residential areas around the canyon are impacted by traffic congestion during high visitation days in the winter. This is especially of concern if there is a need for emergency vehicles to respond to an issue, but are blocked due to canyon user traffic.
There are many ideas floating around and we need you to provide feedback so that whatever project gets OK'd through these processes doesn't forever alter the Wasatch. Clearly, our choices in the past, be them conscious decisions or deciding to just see what happens— have led to the conditions vexing us all and challenging our values today.
Save Our Canyons stands by the need to have a transportation shift that protects our water and land with an emphasis on balancing use and limiting impacts as visitation continues to soar. The capacity of the Central Wasatch Canyons may have already exceeded a sustainable level; now we should focus on collective community values we hold for this area, and implement solutions that realize a healthy future for our population and the Wasatch Mountains.
Remember, your voice is important to UDOT and the Central Wasatch Commission. Please invite a friend and join us on April 9 between 4:00 and 8:00 p.m. You can also submit a comment online by clicking HERE.